Reshma Nahar Ratna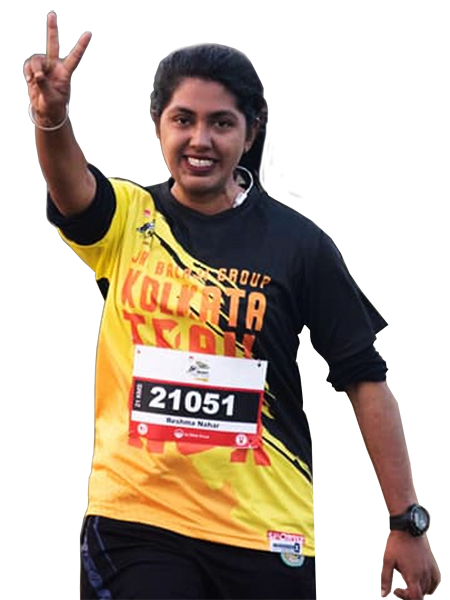 Runner, Mountaineer Reshma Nahar Ratna, who was riding a bicycle, was killed when a microbus hit her on Lake Road, adjacent to Chandrima Udyan, in Dhaka on 7 August 2020, Friday.Born in Chattogram to Sheikh Afzal Hossain and Rabeya Begum, Reshma Nahar Ratna grew up in Narail. The youngest of three brothers and four sisters, she was a nature enthusiast since childhood.
Brought up in a conservative family, Ratna always believed that people are meant to cross their own limits through their dreams. Her indomitable desire to see the world from a young age, shaped her into an avid traveller. An educator by profession and a mountaineer by passion, Ratna had a profound love for life.
A passionate runner and athlete, Ratna also participated in different marathons.  She finished the 25-kilometre Kolkata Marathon in December 2019 and the 21-kilometre Kolkata Trail Run in January 2020. She had recently started a live show on Facebook, titled Porbot Premer Goppo, where she featured several Bengali-speaking female mountaineers.
Her journey as a mountaineer started in January 2016, when she conquered Keokradong, one of the highest peaks of Bangladesh, as a member of Bangladesh Mountaineering and Trekking Club (BMTC). Praised for her enthusiasm, she was selected for a basic training programme for 28 days at Nehru Institute of Mountaineering in Uttarakhand, India. Although she was unable to complete the course due to an injury, she returned in full swing in 2019 for higher and advanced training at the institute.
Ratna conquered Lenana peak on Mt Kenya on May 30, 2018.  On August 24 in 2019, she conquered Stok Kangri, the highest mountain in the Stok Range of Ladakh region, North India. Later, on August 30, she climbed Kang Yatse Peak 2 in Ladakh.
Ratna successfully raised the flag of Bangladesh along with the official flag of Primary Education, to show respect towards her profession. "Amidst various obstacles, we reach the mountain top to fly our country's flag. The love for our country, for our flag, takes us to the top," Ratna told international broadcaster Voice of America (VOA) in an interview in March 2020.
Ratna dreamt of summiting Mount Everest one day. "As women, we must overcome all the obstacles in our way with courage. We must never back down from our dreams," Ratna further said in the interview with VOA. Her spirit and bravery to break the shackles of patriarchy will continue to inspire young women of our country.
Ratna's dreams might have come to an end, but all of us can keep her spirit alive, by choosing to remember her not as a girl who lost her life in a road accident, but as a bold mountaineer with limitless dreams and a heart full of courage.

Courtesy: Rasheek Tabassum Mondira
Source: https://www.thedailystar.net/star-youth/news/remembrance-reshma-nahar-ratna-1942709
Published on: Friday, 5 May 2023, 01:41 pm | Last update: Friday, 5 May 2023, 03:09 pm | Total views: 227.
3rd BARISHAL MARATHON 2024
Coming Soon...