42.195K Pacer
BISWAJIT KUMAR DAS
Bus Time 4:30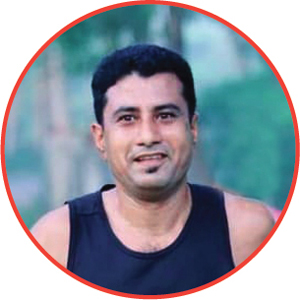 The long distance runner, the attraction to running that gives him the courage to keep up the pace. His conviction is to move forward, which inspire us.
His notable events are: Shamsernagar Ulta Trail Marathon 50k.2021,  Marine Drive Ultra 50k.2021, ীhaka Half Marathon 2020 & 2021, Brand Lancer Sylhet Half Marathon 2020, Sailor Cumilla Half Marathon 2020, Banghabondhu International Marathon 2021, Rab Force Sylhet Half Marathon 2021, Data Craft Gazipur Half Marathon 2021, Chandpur Half Marathon 2021, Chattak Half Marathon 2021, Bengal Convention Hall Moulavibazar Half Marathon 2021, Akhaura Half Marathon 2021, Run Bangla CCCL 10k 2020, Xtreme Sylhet 10k 2021, Sportaholic triathlon 2021, Osmaninagar triathlon 2021 etc. and Many more virtual Full Marathon, Half Marathon,10K & 7.5k run.
MOSIUR RAHMAN
Bus Time 5:00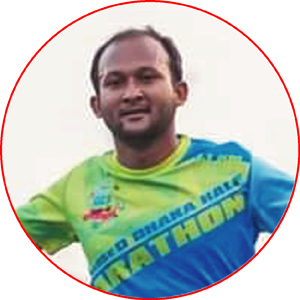 Due to his perseverance outside of his professional life as a businessmen, it has become possible for him to hold on to a laborious exercise like running. It is also an indicator of utmost joy of mind with joy of sports.
His participated events are: Marin drive Ultra 2021 ( 100km), Marin drive Ultra 2020 ( 50 km), Moulvibazar half marathon, Chalan Beel half marathon, Bijoy Half marathon , Dhaka half marathon, Swan half marathon, Bangladesh Trail marathon, Chandur Half marathon , Gazipur Half marathon, Barishal Half marathon 2020 , Netrokona Half marathon etc.
MD SHAHIDUL ISLAM
Bus Time 5:30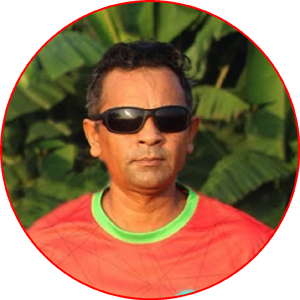 Md. Shahidul Islam, his fascination with physical exercise since childhood. Now he is a runner, swimmer and cyclist. He runs from his own urges and interests, which inspire him to lead his healthy and strong life. In addition to get a lot of pleasure and spend good time.
Fellow runners Md. Jiaur Rahman and Sultan Iqbal have inspired him to join in the running community. Besides, this interest is multiplied by the inspiration of pro-runners Nripen Chowdhury, Khabir Uddin and other veteran runners. Recently, he has participated in the 16th Bangla Channel Swimming 2021 (16.1K) and successfully finished the event. His first official event was Gazipur Half-marathon 2019 .
His significant participations are: Marine Drive Ultra 2020 (50K), Shamshernagar Ultra Trail Marathon 2021 (50K), Bangabandhu Sheikh Mujib Dhaka Marathon 2021 (42.2), Tata Steel Kolkata 25K 2019, GlaxoseD Dhaka Half 2020, Brandslancer Sylhet Half Marathon 2020, CCCL RunBangla 10K 2020 etc.
Published on: Friday, 5 May 2023, 06:33 pm | Last update: Friday, 5 May 2023, 08:19 pm | Total views: 88.
3rd BARISHAL MARATHON 2024
Coming Soon...